Title: Recommended Book on CD: "Fool" by Christopher Moore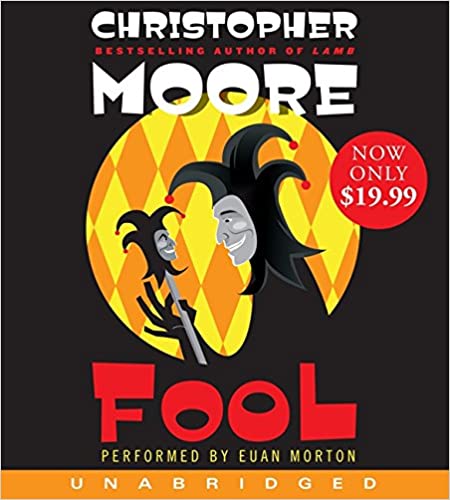 Until recently my job required me to drive a lot. A whole lot. To avoid boredom I've been listening to books on CD. So far the best books I've listened to are those by Christopher Moore. Not only does Moore write ridiculously funny books, but he also picks the most amazing readers to put his books on CD.
This book follows the story of Pocket, a jester in the service of King Lear. If the name Lear sound familiar, that's not a coincidence. The book is based on Shakespeare's play King Lear with references to other plays thrown in. The plot is full of Shakespearean-style deceit and plot twists, together with Moore's trademark general silliness and bawdy banter. If you're easily offended by casual naughtiness, skip this book. (And most of Moore's other books, too, for that matter.)
One thing I've learned while listening to books on CD is that the reader can make or break the book. One reader for another book made all male characters sound either whiny or like complete doofuses. Another reader made all non-American characters sound Russian whether they were Russian, French, or Middle Eastern.
Euan Morton does an amazing job reading Fool. Every character has a distinct voice that's easy to distinguish from the others, his pace is fast enough to hold your attention, and his pronunciation and emphasis make the book simple to understand.
One extra benefit that I did not anticipate is that listening to the book made it easier for me to follow the relatively complicated plot. I have read this book before in print form, but I could only read it in relatively short chunks and I sometimes found it hard to keep track of what was happening. For some reason listening to the book made it easier for me to follow. That might just be me, but consuming the book in a new format gave me a much better appreciation of it.
As I mentioned, if you don't like bawdy humor, give this book a pass. But if you like general silliness in a Shakespearean setting, this is a great listen.